The Red River Gorge is such an amazing place. KY has thick trees everywhere, so the crags are generally not visible from the road or only the tops of the cliffs are visible from the road. Don't be fooled though, there are some amazing cliffs in the woods and the stone is high quality sandstone.
The beautiful Torrent Falls. That's us in the picture for perspective.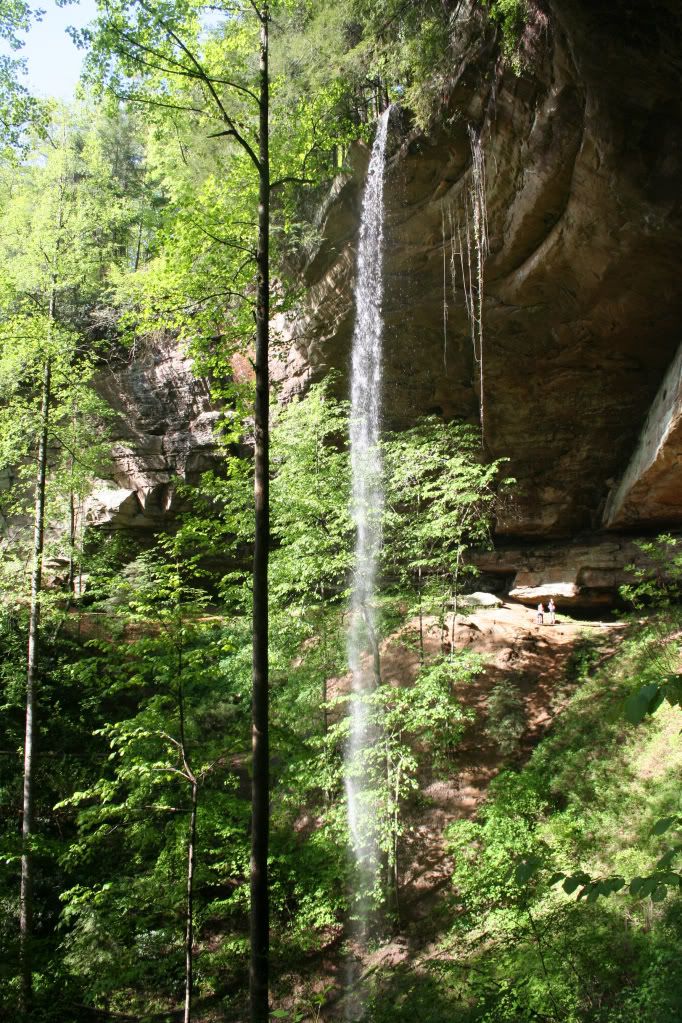 We stayed at a little cabin that is basically right in the Torrent Falls area near Slade, KY. It was awesome. A short 5 minute walk up the stairs led to a beautiful overhanging wall of heavily featured Corbin Sandstone full of 5.11's & 5.12's that seemed specifically designed for the purpose of sport climbing. I am a believer in intelligent design.
Rain update:I think it rained for a few hours all 3 days we were there, but there were still many dry routes for climbing. The drip line on the cliffs we were at were 40 feet back from the wall in many sections. There were wet lines, but most were pretty dry. Unless the rain were blowing fully sideways, most of the cliffs stay dry. That's a pretty nice feature when planning a climbing trip in the spring.
As we were outnumbered by kids, (5 kids that were 3& under, 4 adults) I was pretty glad that we were basically the only ones at Torrent Falls so we could pretty much let the kids run wild without bumming out other climbers with our crew of kids.
Keith on kid duty. Kid duty was the crux of every route!
Keith during less stressful times.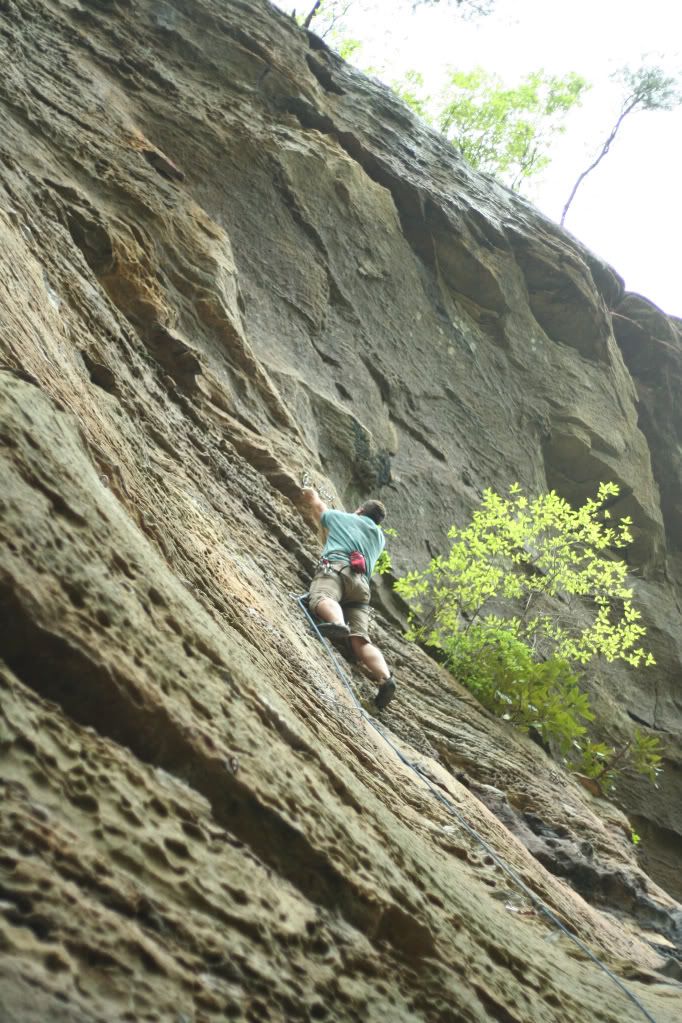 The routes were pretty pumpy and I didn't onsight anything harder than 5.10, but I'm pretty out of shape anyways and it was good just to get out on the rocks for a few days. We actually had a discussion on what was "better" style- being hoisted through the crux on TR, resting at nearly every bolt on lead, or taking short hangs on a TR. I think I'd have to get out more than twice a year to be able to send any of those routes. 2009 is the return of the climber for me. I'm going to focus more on climbing this year and hopefully have some kind of return to form.
Me on
Bare Metal Teen
.
BMT
#2.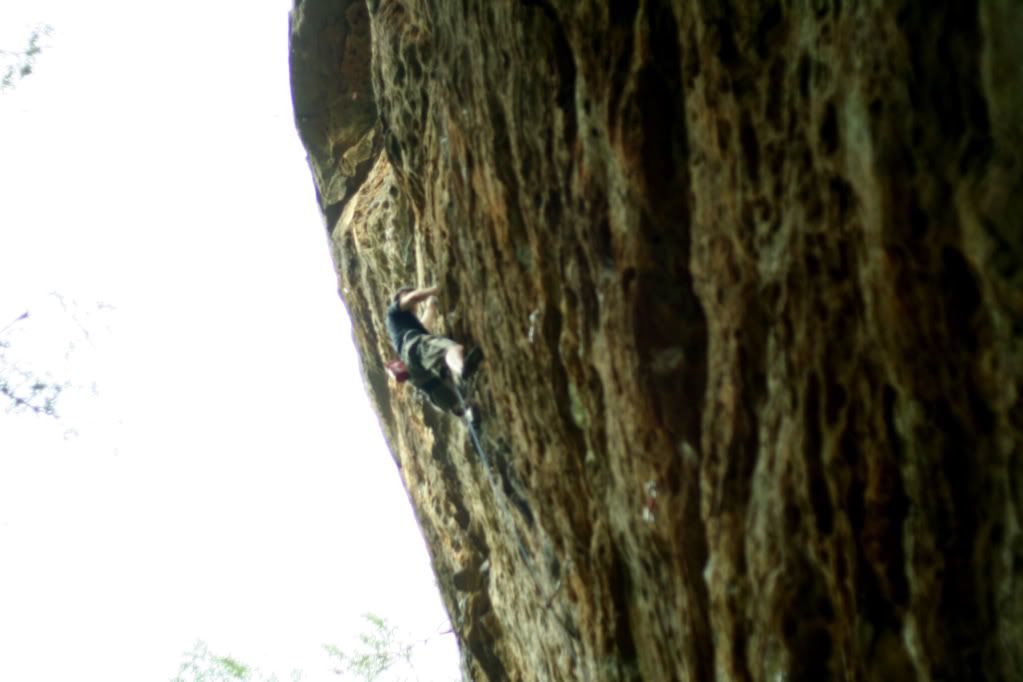 Of course, we visited Miguel's the climbing shop that also sells pizza. When you walk in there are ropes, rock gear, shoes, prAna clothes, and other climbing paraphernalia all over the place and a pizza menu on the back wall. The pie was delicious and atmosphere was unique. If you go to the Red, visit Miguel's. It is a one-of-a-kind eatery.
I can't wait to come back. I think the kids had a riot and Keith's giant swing was a hit with the boys.
Trenton watching his papa climb with snack in hand.
Trenton on a giant swing.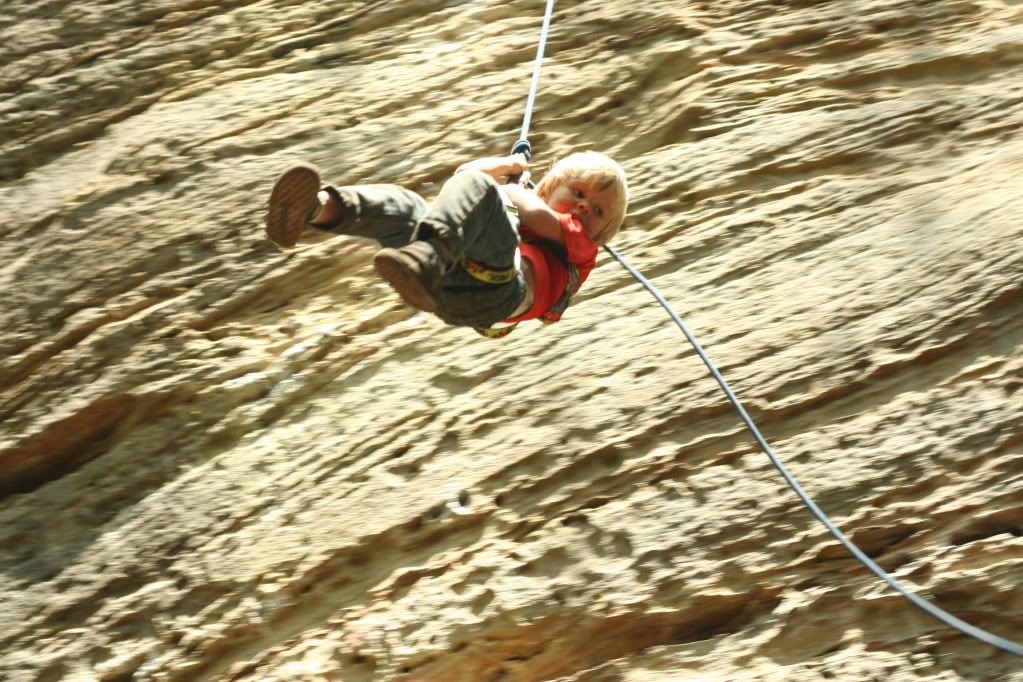 Andrea checking in on the kids from up high.